The Odu Movies team returns to the Gardens of Villa Reale to create a video commissioned by the Lucca Chamber of Commerce. The video forms part of a promotional campaign for the Province of Lucca: "The Lands of Giacomo Puccini", dedicated to promoting the cultural heritage of the 'City of 100 Churches'. Lucca's wide range of tourist attractions includes the historical villas of the area with their extraordinary gardens, Villa Reale being chosen among these for the video shoot. The magical location of the artificial lake provides the backdrop for filming. The lake was created around the 1920s, the historic estate reflecting impressively on its surface.
Entering the grounds, the lake is the first stop on your visit on the 'water' itinerary, and is shaded by impressive trees. A walk around the lake brings you to the location of the beautiful final scene, with the two actors locked in a reciprocal gaze, representing the video's leitmotif of symmetry between two figures.
In addition to the romantic atmosphere of the lake, there are numerous other locations within the grounds – such as the panoramic terrace of the Villa del Vescovo, and other gardens in various styles – perfectly suit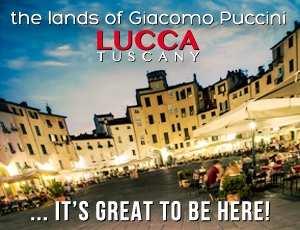 ed to providing the scenery for all types of film production.
Here are some backstage photos and the video.