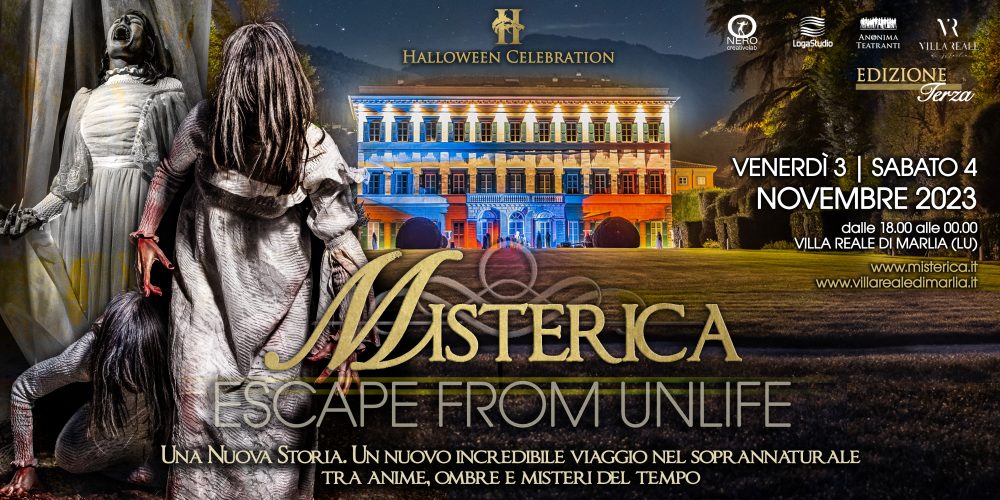 03nov19:0023:59MISTERICA19:00 - 23:59
h. 19:00, 3 novembre 2023 - h. 23:59, 3 novembre 2023
Appuntamenti Successivi per questo Evento Seriale
4 novembre 2023 19:00
Misterica proposed a new story for the third edition on the nights of November Friday 3rd and Saturday 4th in the mysterious location of Villa Reale di Marlia (LU)
ESCAPE FROM UNLIFE – A journey into the supernatural
between souls, shadows and mysteries of time.
A new story,
an incredible new journey into the supernatural
between souls, shadows and mysteries of time.
The boundaries between dimensions weaken,
giving way to shadows and presences to return to the places of their past.
So it happens in Villa Reale, only for two nights.
Those who serve and operate within the perimeter of the park,
they know everything well and in absolute secrecy, unbeknownst to the masters,
they give mortals a way to live unlife directly.
Two nights for MISTERICA 2023 in the darkness of Villa Reale (LU)
The night of November Friday 3rd and Saturday 4th will be incredibly mysterious at Villa Reale (8 km from the historic center of Lucca) which will host, after the success of the last two years, the traveling show of the XXVIV edition of Halloween Celebration: it will go scene MISTERICA.
A new show with a new story will take you along a suggestive and itinerant journey through the darkness of the gardens where the limit between the different dimensions will become blurred, allowing the ghosts of the villa to manifest themselves, returning to inhabit places of their past life.
FAQS AND UNSEFUL INFO FOR MISTERICA AT VILLA REALE (LU)
Who is Misterica for: All those who want to try something new, who want to experience a thriller in the gardens of the real villa.
How it takes place: The mysterious visit will leave every quarter of an hour from the main gate and the group will be accompanied to the haunted gardens all the time.
Language of actors: ITALIAN.
What time: Mystery tours will start every 15 minutes, from 6pm till midnight.
Duration: Each tour/show will last approximately 45 minutes
Reservation: mandatory by pre-purchasing the special Misterica tickets on our website, which will be available from the end of summer. Minors MUST be accompanied.
In case of rain: the event will still take place so comfortable shoes and adventure!
Can you park near the entrance? Yes, 2 parking spaces are available, one on the avenue leading to the entrance and the other following the signs for P2.
How far is Lucca? 10 minutes (7km)
Even if I have a season ticket, do I have to book and pay for Misterica? Yes, since it is an extra event, only the surcharge due to the event will be requested.
Can I buy the ticket on the spot? Only if not all available tickets have been sold, priority to those who buy the ticket online, and eventually only until the maximum number of tickets that can be sold is reached, i.e. 35 people for each tour.
Is the tour accessible? The tour is partially accessible and for this reason an ad hoc itinerary has been created at 8.30pm both on Fridays and Saturdays. People with disabilities and their companion will be able to participate for free but must still make a reservation!