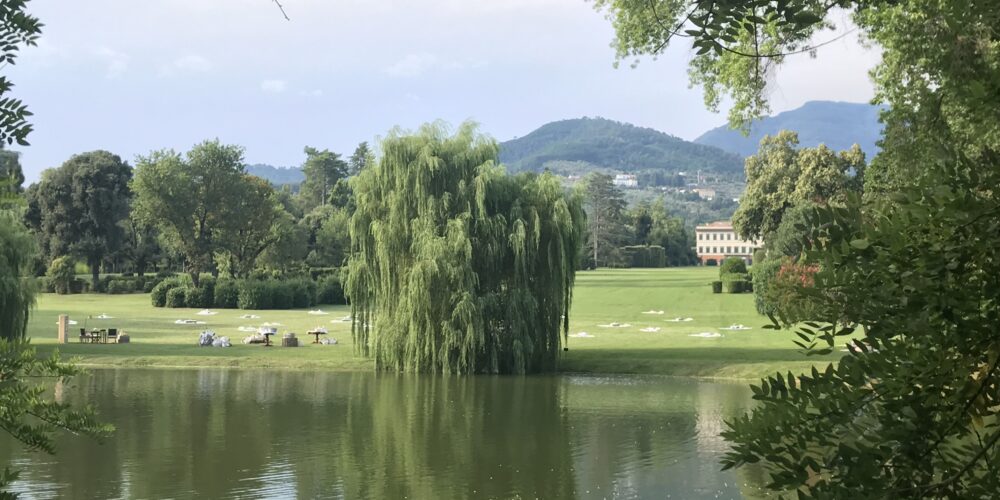 27giu18:0021:30Pic nic at sunset18:00 - 21:30 Experience the unique atmosphere in the gardens at Villa Reale at sunset, the perfect backdrop to a delicious picnic lovingly prepared by the renowned Giglio restaurant in Lucca. The park, usually[...]
h. 18:00, 27 giugno 2020 - h. 21:30, 27 giugno 2020
Appuntamenti Successivi per questo Evento Seriale
19 luglio 2020 18:0026 luglio 2020 18:00
Experience the unique atmosphere in the gardens at Villa Reale at sunset, the perfect backdrop to a delicious picnic lovingly prepared by the renowned Giglio restaurant in Lucca.
The park, usually closed after 6pm, will be open after hours for this exclusive event created in collaboration with the team of chefs from Giglio – Benedetto, Stefano and Lorenzo. Savour traditional dishes with a contemporary twist, relax and enjoy the stunning surroundings and recently-restored architectural heritage of the estate.
TO MAKE THE MOST OF YOUR VISIT we recommend arriving at around 5:30pm to give yourselves plenty of time to visit the Villa and the park at this special time of day. You can then collect your picnic basket and bottle of wine from the Café (before 7:30pm).
The area set up for your picnic has a beautiful view across the lake. A feast for the eyes and the senses!
The park does not have any lighting, so the event will end when it gets dark – at around 9:30pm.
Please book by the Thursday before the picnic date. You can book online (with a deposit to secure your place).
Use of masks is only obligatory in closed spaces (for example in the ticket office, the Villa, or in the Café).
2020 MENU
Veal with roe seasoning
Cucumber, date and wasabi salad
Hummus with scabbardfish
Liver and hazelnut pâté with pan brioche
Spelt seafood salad
Cheeses
Fresh fruit
Shortbread
Chef's choice of bread
2020 GLUTEN-FREE VEGETARIAN MENU
Cucumber, feta, date and wasabi salad
Red turnip tartar
Thai pak choi and quinoa
Endive with blue cheese, honey and mustard
Toast with capers, sweet peppers and burrata cheese
Za'atar hummus with zingy salad
2020 CHILDREN'S MENU
Toasted bread
Tuscan bread and tomato soup ('Pappa al pomodoro')
Fruit juice
Homemade biscuits
PRICES:
€55 per person (minimum 2 people)
Free for under-14s
The price is per person and includes after-hours entrance to Villa Reale and picnic basket (minimum 2 people, 1 bottle of champagne between 2).
A vegetarian picnic is available upon request.
BOOKING YOUR PICNIC
For organisational purposes, and to ensure your place is guaranteed for this special event, your booking will only be valid and confirmed once the deposit amount is paid (€20 per adult).
HOW TO BOOK
Go to shop.villarealedilmarlia.it, choose the date of your picnic, proceed with the booking selecting the number of people required and pay the deposit amount (by card). You will receive an email, which you'll need to bring with you on the evening, when you will pay the remaining amount for the picnic.
Picnic blankets and lanterns will be set up according to the number of bookings, and may not be moved around on the lawn (in line with anti-Covid restrictions). We therefore ask that groups who want to come together place a single online booking, or to let us know via email that they are one group.
The confirmation deposit is not refundable if one or more people in the group do not turn up to the event (on the selected date, or on the alternative date in case of rain). Please let us know if you can't make it, so that we can offer your place to others.
IMPORTANT: In case of rain, the picnic will be postponed! Cancelled June dates will instead take place on the 3rd of July, and cancelled July dates will take place on the 2nd of August.
Want to know more? Take a look at the video for a preview of your sunset experience!
Pic nic at sunset - Villa Reale di Marlia (Tuscany)