On 17th July 2017 with the Grandi Giardini Italiani – the country's largest network of gardens – celebrating its 20th anniversary, founder Judith Wade selects her favourites.
Garden #2 : Park of Villa Reale in Marlia
The Royal Garden of Marlia, whose first owner was Napoleon Bonaparte's sister, Princess Elisa Baciocchi, has recently undergone a major restoration. A luxurious green lawn, the teatro di verzura, laid in the 17th century, rolls from the Renaissance villa down to a picturesque lake. This has been restored, with terracotta statues in their original places. Trees, shrubs, camellias and boxwood hedge walks have been cut back to the original size and shape designed by Jacques Gréber in 1924. The colourful Spanish garden is particularly impressive, with fountains fed by a network of irrigation channels.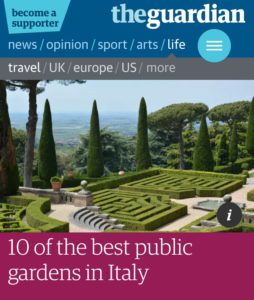 Text taken from the guardian
What an honour to be listed in the 10 BEST GARDENS IN ITALY and moreover, to placed at the second position on the guardian's list!
The long process of restoration works led the park to be a "must see" in Tuscany and we are glad that Judith Wade consider us in her favorites gardens!
We are looking forward to welcoming you to discover the hidden treasures and the emotions you can experience at the park of Villa Reale, just outside Lucca!