Works have begun to restore and renovate Villa Reale di Marlia, entrusted to the architect Luca Borgogni along with the building firm Bruni Costruzioni, and carried out under the strict supervision of the Architectural and Cultural Heritage authorities in Lucca and Massa Carrara. The buildings of the Villa Reale – once home to Elisa Bonaparte Baciocchi – will be progressively restored, including the Palazzina dell'Orologio (Clock House), historically used for accommodation. The works will include the restoration of the exterior walls and all of the exterior and interior decoration, in order to bring the place back to its former splendor. To carry out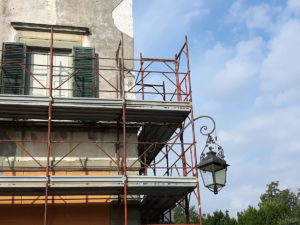 the works effectively – now made necessary due to the critical condition of the buildings – great care will be taken in the first instance to carry out a series of initial investigative surveys, to get a clear and detailed picture of the condition of the entire structure. This 'overview' will cover the whole area down to the finest detail. This, together with scrupulous historical research, will enable an analysis of the particular details and genius loci of the Villa Reale, allowing for a careful and sensitive restoration in keeping with its historic and visual spirit.
In addition to the restoration, this year has seen numerous works coordinated by Gruppo Giardini to maintain and conserve the 'green architecture' of the Villa Reale, among the most important being the pruning of the Green Theatre, and making the scenic pathways leading around the whole property (following the 'water' or 'architecture' itineraries) more accessible. There are also plans to rationalise water sources and to renew the plumbing and draining systems.
The renovation of the buildings and the gardens has two main objectives. The first is to bring the whole Villa Reale complex back to its central cultural role, and to restore the buildings and gardens to full working order, maintaining their historical identity while playing close attention to their cultural and heritage context. The second is to generate strategic cultural activity and to create links with the local area, in order to increase opportunities linked to the natural environment, developing and encouraging tourism with a mix of history, environment, cultural tradition and architecture.
Despite the scaffolding around the Villa Reale and the Palazzina dell'Orologio, the grounds and gardens of the Villa, with their impressive marble statues and gushing fountains, will remain open to the public during normal opening hours.